Generally, a PCIe x1 slot is an interface used to communicate with devices like sound cards, network adapters, TV Tuner, NVMe M2, etc. It is smaller in size (25mm) as compared to a PCIe x16 and has a single lane to transfer data at the rate of one bit per cycle.
To understand a PCIe x1 in detail, you need to know everything related to PCIe slots in detail.
Types of PCIe Slots on a Motherboard
PCI Express or PCIe slots have evolved since they were introduced back in the year 2000. Modern motherboards are equipped with four common sizes of PCIe slots: x1, x4, x8, and x16. The different sizes of PCIe slots accommodate different types of peripherals. The PCIe x16 has more lanes, thus it can transfer data 16 times faster as compared to a PCIe x1 slot.
Sizes of PCIe Slots
| | | |
| --- | --- | --- |
| Slot Width | Sloth Length | Pins |
| PCIe x1 | 25 mm | 18 |
| PCIe x4 | 39 mm | 21 |
| PCIe x8 | 56 mm | 49 |
| PCIe x16 | 89mm | 82 |
Width and Length of PCIe Slots
Peripherals That Are Compatible With PCIe x1 Slot
Below are some of the most compatible peripherals to plug in your PCIe x1 slot.
Port Expansion Cards
The most common reason to use a PCIe x1 slot is to extend your SATA or USB ports. Basically, if you are short on USB or SATA ports on your computer, you can install SATA or USB expansion card on a PCIe x1 lane.
Also, if your motherboard supports an older interface of USB and you need to upgrade to the latest one, you can accomplish that with PCIe x1 lane. For example, your motherboard supports USB 2.0 slots and you want to upgrade it to USB 3.0, this is achievable by installing a PCIe x1 USB 3.0 expansion card.
Moreover, if there are limited SATA ports on your motherboard and you want to install multiple SATA hard drives, you can opt for a PCIe x1 expansion card that can support multiple SATA ports.
PCIe Riser Card
If you are limited on PCIe slots on your motherboard, you can install a PCIe Riser card to expand the slots. However, increasing the slots will not affect the performance of your hardware at all. Adding more PCIe slots on your motherboard will allow you to add more peripheral, but it won't result in a higher transfer rate.
NVMe or M.2 Drive
Faster hard drives are the future of the computing world. And no doubt, NVMe (M.2) hard drives are one of the fastest storage devices available at the moment. The data transfer capacity of an NVMe drive is way faster than a normal hard drive.
To install an NVMe drive, you need an M.2 slot on your motherboard. Well, if it's already there, then you are good to plug in your NVMe drive in it. But on older motherboards, you won't find slots. So, the only way around is to install a PCIe expansion card on one of the PCIe x1 slots on your motherboard.
Network Card (Wireless or LAN)
A PCIe x1 slot is widely used for expanding the network capabilities of your computer. For example, if your motherboard lacks a network adapter (wireless or LAN) and you need one, then you can install a network adapter card on a PCIe x1 slot to connect to the internet.
Apart from just adding network adapters, you can also install PCIe expansion cards that come with a phone jack. Although, we are living in a time where a phone jack doesn't matter at all for connecting to the internet, still some people make use of fax machines for communication.
Furthermore, if the ethernet adapter is on your motherboard or you want to add a Wi-Fi card on it ( as most motherboards don't come with a built-in Wi-Fi), then you can install a network card on a PCIe x1 slot on your motherboard.
Sound Card
Although the modern motherboard comes with a 5.1 or 7.1 integrated sound card, some enthusiasts still rely on a dedicated sound card for higher performance. Especially, if you are a hardcore gamer, then going for an aftermarket sound card would be your first priority. In this case, you can make use of PCIe x1 slot to install your sound card.
TV Tuner
You can watch your favorite TV shows from your PC by installing a TV Tuner card in the PCIe x1 slot. A TV Tuner card lets you watch and record the program at the same time. Moving one step further, you can connect a Video Capture card on a PCIe x1 slot to convert your old VHS tapes into digital files. Most of the Video Capture cards come with basic analog RCA connections.
Video Card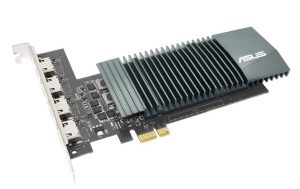 Not every graphics card is made to be installed on a PCIe x16 slot. Definitely, you can install a video card on a smaller slot like PCIe x1 as well. However, in this case, you will have to suffer from a lower performance. A video card will perform way better on a PCIe x8 or x16 slot as compared to an x1 slot.
Final Words
There you have some of the most common uses of a PCIe x1 slot. Having a PCIe x1 slot on your motherboard allows gives you enough room for adding peripherals like a sound card, network card, TV card, etc. Also, you can expand your storage capacity by relying on these smaller PCIe lanes.